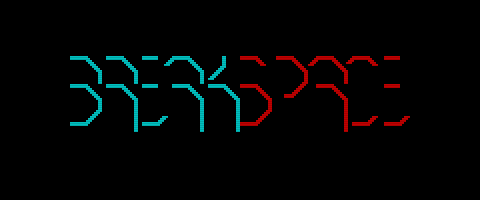 Break/Space
Well, it's finally here - version 1.5 of the game has been compiled with ZX Basic and it's faster and better than ever! There are also a few bug fixes and other exciting things which you can read about below.
The new version is available from the main page, but I've left the last BASIC-only version there too because it's still a really cool thing!
Failing further bug-fixes this will be the last release of the game - I hope you enjoy playing it as much as I enjoyed making it! As for me, I'm moving on to my next project... whatever that may be. :-)
1.5 (16/07/17)
• Revised source to be compatible with the ZX Basic compiler, so it's now 100% machine
code!
• Fixed missions bug which prevented most of the game's missions from functioning as
intended. Luckily no one noticed this before.
• Ship can now be moved with Q, A, O and P as well as cursor keys 5, 6, 7 and 8.
• Revised menu screen with logo and fancy flashing colours. Flashy colours added in a few
other places too to replace boring old FLASH 1.
• Second UDG bank for slightly improved in-game borders.
• Futuristic space font.
Files
Break-Space v1.5.tap
15 kB
Jul 16, 2017
Break-Space v1.5.pdf
105 kB
Jul 16, 2017
Break-Space v1.5 Source.zip
15 kB
Jul 16, 2017