Physical release now available, other platforms arriving shortly
---
Exciting developments for Unhallowed over the last few months!
Physical Release
The game now has a physical release on cassette, courtesy of the lovely fellows over at Bitmap Soft. If you'd like a real-life tape for your Spectrum in marvellous packaging (with artwork by industry legend, Simon Phipps, as seen above) then head on over to Bitmap Soft's web site to purchase a copy!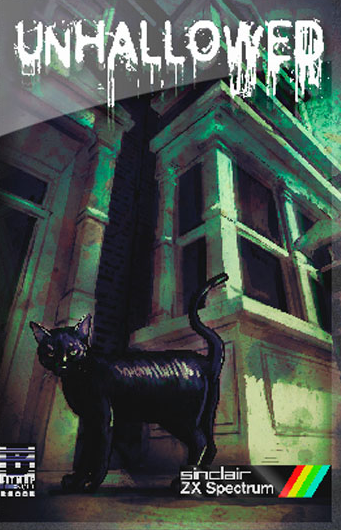 Other Platforms

Stefan Vogt (@8bit_era) has been working hard at porting Unhallowed to DAAD, which means it can now be compiled for other platforms. Versions are in the works for the Commodore 64, Amstrad CPC and Commodore Plus/4, at least one of which is likely to also see a physical release too. This is obviously hugely exciting, and many thanks to Stefan for making it happen!
Stefan has also produced an excellent loading screen based on Simon's box art - the C64 version is below: